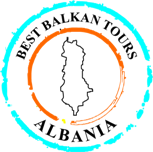 Discover Balkan - Durrësi
Durrësi, the biggest seaport of the country, is located 34 km away from Tirana. It is the most ancient city in Albania, with almost 3000 years of history. Its foundation dates back to 627 B.C. when the Corinthians and settlers from Corcyra invaded the Illyrian territory of the Taulants. The city is home to many ancient archaeological sites and finds. The most notable tourist attraction in Durrës is the amphitheatre of the Roman emperor Adrian with 15000 seats, the second biggest amphitheatre in the Balkans. During the 9th Century, a small church with mosaic-covered walls was built nearby. You can also see the bathhouses of the 2nd century A.D. and the nearby Byzantine forum of the 5th-6th century with marble columns.
One-third of the original wall of the city castle is still standing, and you can even walk along the same road that Caesar himself trod! The Archeological Museum is a new building in the avenue Taulantia. It is one of the most important of its kind and is of great interest to visitors. The most renowned archaeological object uncovered in Durrësi is "Bukuroshja e Durrësit", a mosaic of the 4th century B.C. Today it is exhibited in the National Historic Museum in Tirana. In addition to its historical value, Durrësi is also a beautiful place to take a modern vacation, due to its sandy beaches, hotels and metropolitan outlook. You will find excellent restaurants and accommodations all along the sea's edge.