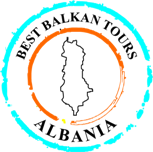 Discover Balkan - Kruja
The historic city of Kruja lies on a panoramic mountain slope 32 km away from Tirana, 600 m above sea level. The city is one of the most beautiful tourist spots due to its natural views and its history. Here Gjergj Kastrioti (Skanderbeg) protected Albania and Europe from the Ottomans. The most important attraction of the city is the Museum of the National Hero "Gjergj Kastriot Skënderbeu", situated in an Illyrian castle, which took its present facade during the 5th-6th century. The castle has nine towers, a few houses, and the Teqja e Dollmasë. The hammam is on west of the castle. Inside the castle grounds, you can also visit the Ethnographic Museum, a typical house made of çardak, which belonged to the illustrious Toptani family.

The traditional market of Kruja stands near the castle. It is one of Albania's largest handicrafts market. This bazaar has operated since the 15th century. On the top of the mountain over the town of Kruja there is a religious spot called Sari Salltiku (Bektashi sect). The visitors can find shelter and accommodation if they wish to climb to that spot. From here there is a magnificent view toward the valley and further to the Adriatic Sea.