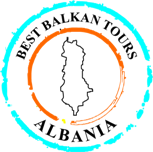 Discover Balkan - Ohrid
Ohrid is a large town in southwestern Macedonia on the shore of Lake Ohrid. A town of vast history and heritage, it was made a UNESCO heritage site in 1980. Nestled between high mountains up to 2,800 m and Lake Ohrid, it is not only a place of historic significance but also of outstanding natural beauty. Ohrid is the jewel in Macedonia's crown.
Archaeological finds indicate that Ohrid is one of the oldest human settlements in all of Europe. The lake itself is over three million years old. Ohrid town is first mentioned in Greek documents from 353 BCE, when it was known as Lychnidos - or, "the city of light". Only much later, in 879 CE, was it renamed Ohrid. The name probably derives from the phrase "vo hridi" – meaning roughly, "in the cliff". It comes from the time when the town was limited in a small area on the lake side of the hill, which in fact is a huge cliff rising above the lakeshore. The town as we know it today was built mostly between the 7th and 19th centuries. During the Byzantine period, Ohrid became a significant cultural and economic center, serving as an episcopal center of the Orthodox Church and as the site of the first Slavic university run by St. Kliment and St. Naum at the end of the 9th century. At the beginning of the 11th century, Ohrid briefly became the capital of the kingdom ruled by Car Samuil, whose fortress still presides over the city today. Aside of the lake, Ohrid is most famous for its ancient churches, basilicas, and monasteries where Saints Kliment and Naum with the help of king Boris I (students of Cyril and Methodus) wrote their teachings and formulated the Cyrillic alphabet used in the Republic of Macedonia, as well as neighboring countries Bulgaria, Serbia and Montenegro and as far as Russia, and many of the countries of the former Soviet Union. Most of these churches charge an entry which for tourists is normally double that what locals
pay, but is still worth it. It is a good idea to cover up when entering a church, but most locals will understand the inconveniences involved during a hot Macedonian Summer. There is also a wonderful ancient walled fortress at the top of the city. Churches to visit include:
St.Sophia church 11th c. - Cathedral of Ohrid archbishops. St.Bogorodica Perivlepta 13th c. - The church was built and painted in 1295. St.John Kaneo church 13th c. – most known for its scenic location, standing on a cliff over Lake Ohrid. St.Pantelejmon – Plaoshnik - It has been very important religious center since early Christian times, if not before.
Old Bazaar - Since Ohrid was a big religious and cultural center, it never was an important trade center, which is evident by the size of its bazaar. It is a simple bazaar consisting of just one street.
Ohrid Fortifications - The whole old town is circled with walls, which are crowned with King Samoil fortress. King Samoil Fortress – From Plaoshnik take a small path through the woods to reach it.