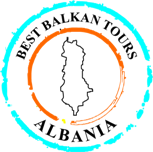 About Us
Get to know Best Balkan Tours.
Best Balkan Tours, is a tour operator specializing in travel to Albania and Balkans. Our passion for all Balkan things is what makes our work rewarding. We take tremendous pleasure in ensuring that you have a great Balkan vacation experience.
Why Plan Your Vacation with Best Balkan Tours
Dedication to Customer service!
Our dedication to superior customer service began in 2005, distinguishing us as a leader in incentive and corporate travel. Throughout the years, the success of our travel business always led back to our experienced and knowledgeable customer service. Today, we pride ourselves in successfully combining 21st century communication through the Internet with good old fashioned values of personalized customer service.

Knowledge and passion!
All of our tour representatives have solid, personal knowledge of Albania and Balkans and a passion for working with clients to create their dream vacations. Our philosophy is that anyone can book a hotel or an airline ticket, but to ensure a unique, unforgettable vacation you should really talk to us. As tour designers, we will customize every detail of your private tour and create an experience that's truly your own.

Our clients are always in our care, before and during their trip. Our office in Tirana has English speaking staff readily available to assist or advise our clients during their visit to Albania. Our amazing local guides and drivers are passionate about their beautiful land. They go out of their way to ensure that by the end of your trip you share their love for Balkans.

Our own office in Tirana also offers English speaking assistance at any time during your trip, whether in an emergency or for advice of any kind.

Sales Office
Best Balkan Tours
Rr. Myslym Shyri Pall Bankes Shk.3 A1
Tirana, Albania
Tel: +355 684040066
Get started on the Road to Balkan
Contact us now for a no obligation personal consultation with our tour designers.




Our private tour features:
Flexibility: Choose your dates
More Choices: Choose your itinerary & activities based on your interests.
Comfort: Travel at your pace
Budget: We plan according to your budget
Private: No groups. Private guides, drivers & Servises
Peace of mind: Our expert sales team and our local office in Italy with English speaking staff offer a worry free vacation.